ROCKINGHAM RAMS SENIOR UPDATE 2019
The 2019 home and away season has drawn to a close with the Rams league side finishing with a 15 win and 3 loss season to finish on top of the ladder.
After some early season patchy form where we were 6 and 3 at the half way mark, the players have had a fantastic 2nd half of the season to win 9 in a row and claim the 2019 minor premiership. With this result we have a week off before a home 2nd semi final on the 8th of September.
This result has come about because of a very determined and hard working playing group that is littered with local home grown talent.
At present our league side has;
                    15 players who played junior footy at the Rams.
                    2 players who have been at the club for 6 years (our current co captains).
                    2 players who have been at the club for 3 years.
                    2 new players this season, and the other is a life member of our club.
What this shows is the fantastic development pathway at our football club.
During the season we have had 10 players make their league debut with 6 of those coming through our junior programme in the last 2 seasons.
What we are trying to achieve with this is a period of sustained success, not necessarily premierships (although that would be nice) but making sure the Rams are highly competitive for many years to come.
What eventuates this year is the unknown, but what I do know is that this league group is the most driven group of players I have had the pleasure of coaching, they will leave no stone unturned in their preparation for a tough and exciting finals series.
The Peel Football League senior competition is a tough competition with any of the 5 sides playing finals having the potential to go all the way.
We are excited by the challenge ahead and looking forward to our 1st final on the 8th September.
Our colts and reserves are also in the finals and it looks like we will have all 3 grades playing at home on September the 8th.
To all or sponsors, supporters, life members and members who have supported us during the year we say a big thank you. We also say we need you over the remaining few weeks of our season, your support is enormous and greatly appreciated by all.  Thank you again and bring on next Sunday.
Scott Franklin
League Coach
ROCKINGHAM RAMS RESERVES UPDATE 2019
With the 2019 season almost complete we can reflect on a season that
has seen some very competitive football played in the Reserves grade
competition. The Rams group have jelled together very well over the
season which has seen some big wins and some narrow losses concluding
with the reserves finishing in 3rd position behind Sth Mandurah &
Baldivis.
The Qualifying final saw us up against last year's premiers in Sth
Mandurah. The boys got off to a good start and played a brand of
football that suits finals and were in front for the majority of the
day to run out 30 point winners.
Next we took on Baldivis at Anniversary Park in the 2nd Semi Final
with the winner booking a spot in this year's Grand Final. In a tough
game both sides put their bodies on the line the whole game but with
the fighting spirit the boys have showed all year they came away with
a 26 point win.
Now this week we prepare for a second Grand Final in as many years and
I am hoping that the lessons learned last year will hold us in good
stead.Win, lose or draw myself and the Club is very proud of the way
the boys have continually strived to make themselves and this great
Club better and stronger.
Damien Mollison
Rockingham Reserves Coach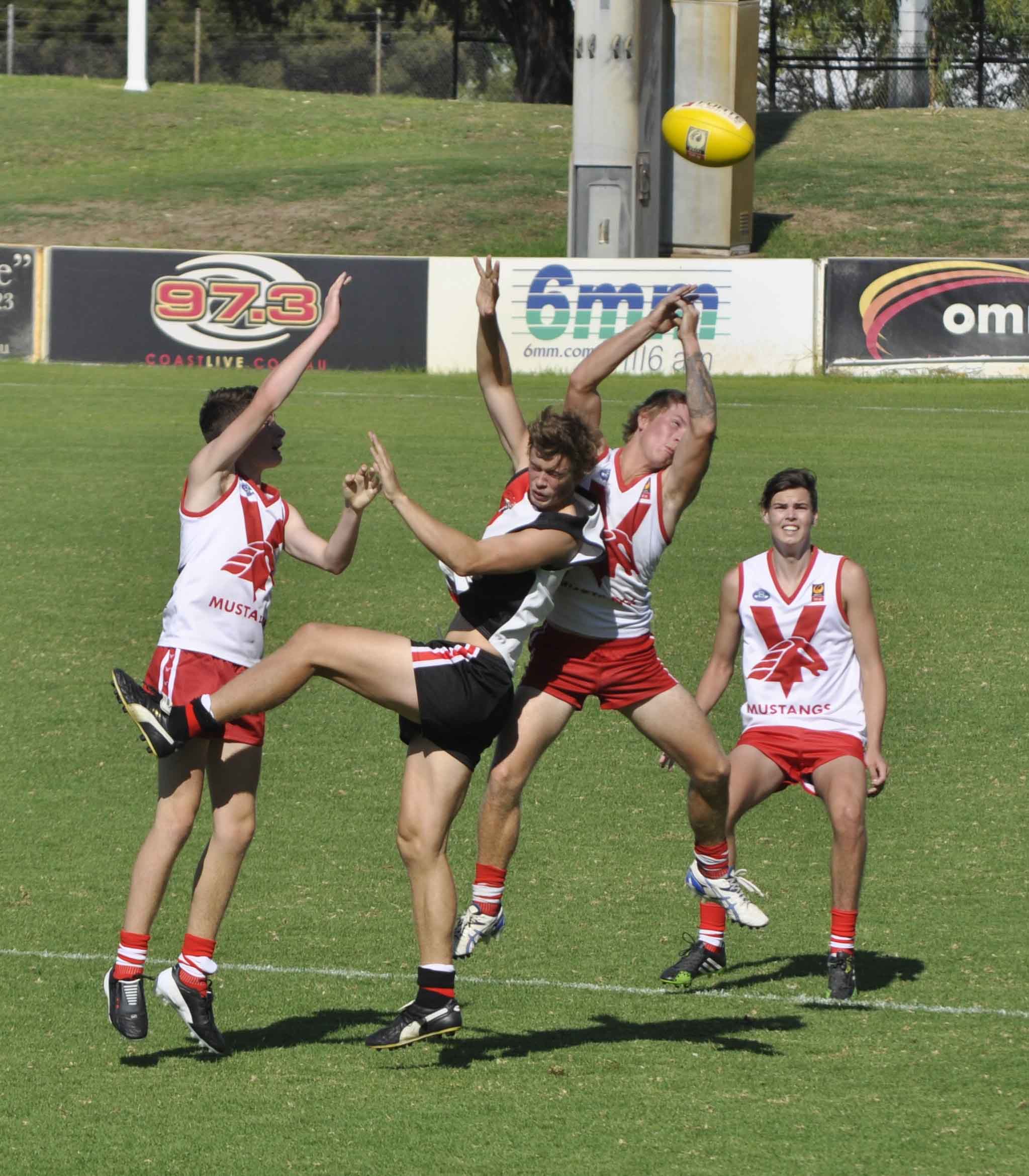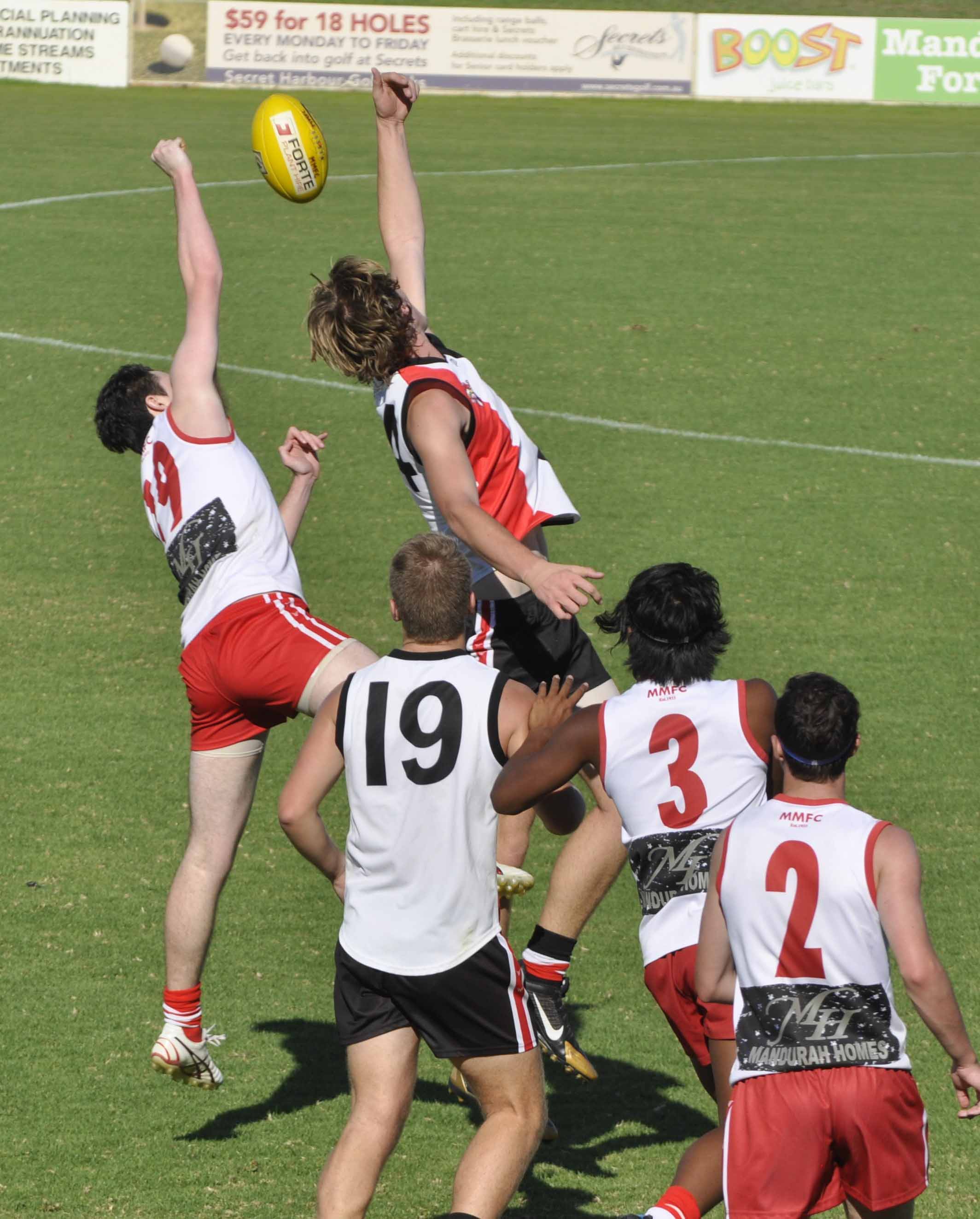 ROCKINGHAM RAMS COLTS UPDATE 2019
As the regular season has drawn to an end and we gear up for our assault on this year's grand final it is a great opportunity to reflect on our achievements this year. 
As a senior club we have positioned ourselves in grand finals in all three grades. This is the first time this has occurred since 1996 and is an absolute credit to Scott and his ability to drive a culture of both performance and development within the whole player group. 
The Colt's season has had a focus of continual improvement and to achieve a third straight grand final appearance would suggest this has occurred. Not only have we continued to win games of football, we have also had 7 players promoted to play senior football. 
As the 2019 Colts coach I couldn't be more proud of our team. They are an outstanding group of young men who I know will do everything in their power to bring home the 2019 premiership flag. 
Regards
Ash Snow
2019 Colts Coach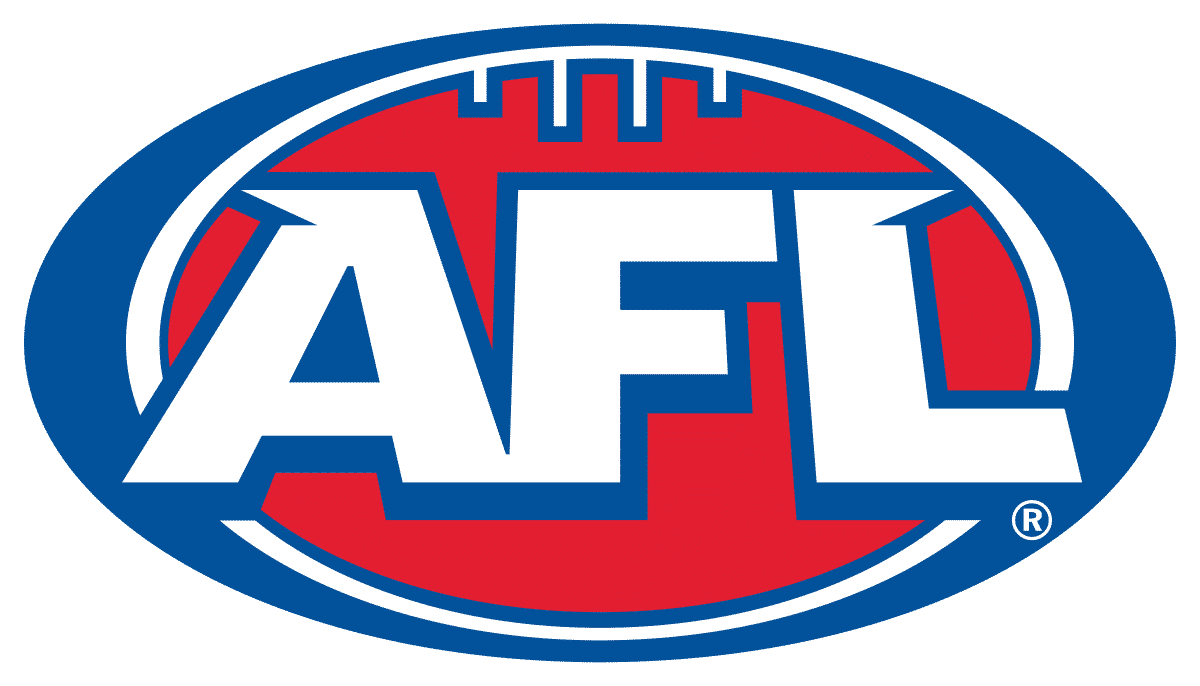 For seniors membership please visit
Our Seniors Coaching and Support Staff
Our men are a dedicated, hardworking team of individuals. If you want to know more, check out the profiles below..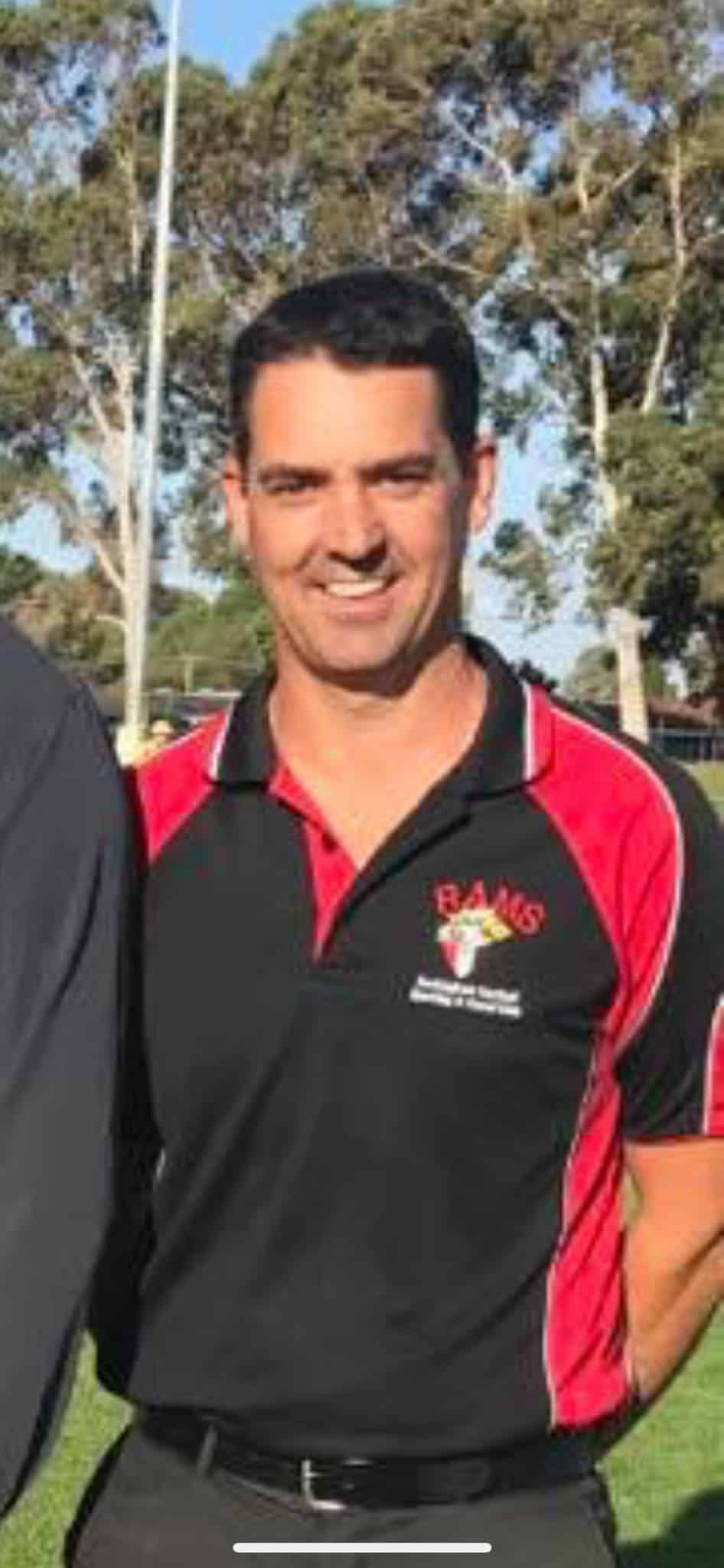 Scott Franklin
League Coach
We are currently putting together a great all round side with a lot of young talented home grown footballers ready to step up.
One of the most decorated senior footballers to play for the mighty rams & peel league, Premiership player, Club Captain, multiple fairest and best winner and peel cavalier. Went on to coach state 16s and peel thunder colts before being lured back to the Rams. Scott is currently putting together a great all round side with a lot of young talented home grown footballers ready to step up.
Playing Career Rockingham football club 1992-2008
-232 League games.
-1997 Premiership player.
-3 x league fairest and best. 1 x colts fairest and best.
-Club Captain 1998 and 2005-2007.
-Rockingham Rams Life Member.
-Peel football league Hall of fame member.
Coaching career.
-Assistant coach Peel Thunder Colts 2007-2010.
-Head coach Peel Thunder Colts 2011 and 2012.
-WA state under 18s Midfield coach 2013 and 2014
Damien Mollison
Former Victorian superstar who came to WA and luckily for us turned up at the Rams. Premiership player, club captain, multiple club & league Fairest and best winner Molly has shown on and off the field how to be a leader and what being a club person is all about. Building a powerful reserves side that is getting stronger and stronger.
-157 games at rennie seniors
-25 games at Mulwala seniors
-164 games at Mulwala res
-17 games at CDHBU seniors(premiership)
-155 games at Rocko res
-5 games at Rocko seniors
-Seniors 204 games
-Reserves 319 games
-2007 League Premiership CDHBU
-3 x Team of the Year seniors Coreen FL
-Vice Capt Senior Rennie FC 2002-2004
-2 x League Club Runners Up B & F
-2 x Reserves League B & F
-4 x Reserves League Runners Up B & F
-5 x Reserves Club B & F
-6 x Reserves Runners Up B & F
-2014 Reserves League MVP
-Senior Assistant Coach Rennie FC 2001-2004
-Rocko Reserves Coach 2015 – Current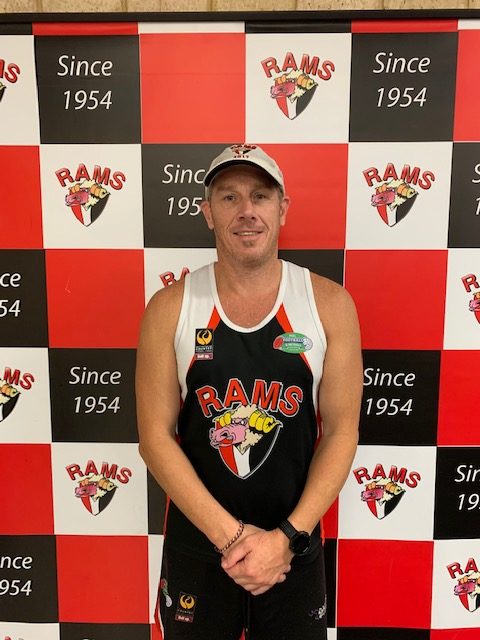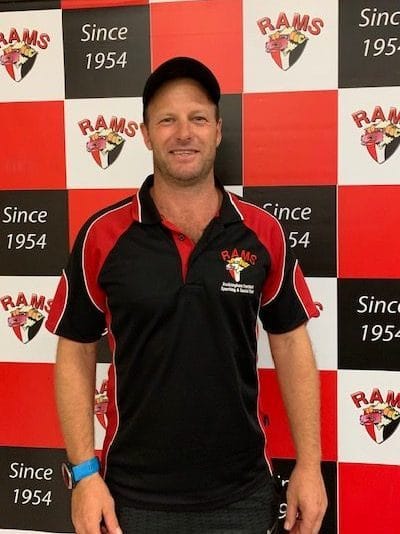 Ashley Snow
Inaugural peel league premiership player who also made the move to the rams. Club premiership player and fairest and best winner. League & Club Coach, Looking to take the next generation of young men on a clear pathway to being the best footballers they can.
-1992 inaugural peel league premiership player
-200+ games Mundijong FC
-League captain
-Peel cavalier member 92/93
-Top ten Mandurah mail medal 1992
-3 time premiership player Rockingham Rams reserves 96/97/98
-Fairest and best and team captain
-Coached over 150 league and Reserves games in the PFL