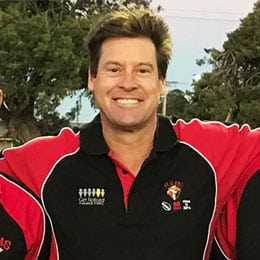 Presidents Welcome 2021
PRESIDENT WELCOME 2021
 Welcome to 2021 at the Rams.
 After an interesting 2020 the Rams are looking forward to more of a normal 2021 both on and off the field.
 2021 has started strongly with the Club winning $2,500 from the WAFC for most preregistration sign-ups for returning players. Player numbers are up for both boys and girls with spots in teams being close to being full.
 TC Drainage continue as the Clubs Platinum Sponsor and I would like to welcome Rockingham Auto Group (RAM, Jeep, Chrysler, Fiat, LDV) as the Clubs Jumper Sponsor for a 3 year period.
 Our sponsors are incredibly important as they provide financial support, vouchers and in-kind contributions and I strongly encourage everyone to use their services over the year.
 The players, coaches, officials and volunteers are the lifeblood of the football Club and at the Rams we have some of the very best around.
It was a proud and successful year for the Club in 2020 with the League, Colts and Year 11/12's all winning a premiership and showing that the Club has a very strong development pathway in place.
 Unfortunately, the netball season was cancelled in 2020 due to COVID although this year looks like it will be huge for the Club with successful trials already underway.
Whilst on-field success is important at the Rams we have a clear and direct focus on junior development, senior success, volunteering, parental involvement, good governance, and the provision of high quality facilities. The ability to mix the development of quality players and have them become good community members is what we want to achieve.
 Michael Holland
President
RFS&SC
Football is more than just a bunch of lads or girls running around. Its about mental wellbeing, freindship and best of all having fun. Rockingham RAMS is proud to have been actively involved in community footy for many years which has assisted young and old in playing the great game of aussie rules.