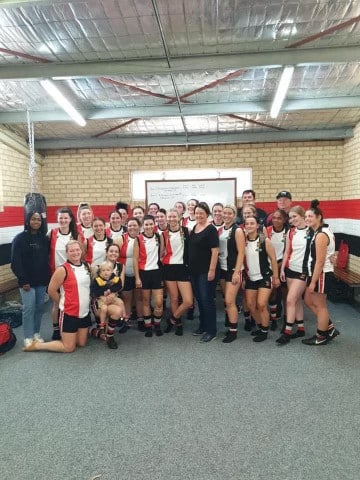 Rockingham Rams Senior Women's Team 2021
Pre- season training commenced this year on the 11th of January 2021 and training times are Monday and Wednesdays 6pm to 730pm. The first month of pre-season was about building fitness and working on skills execution. The second month has been to continue building the fitness base contested and skills work are the key focus area as we build into the season proper.
This is the Rams women's third year in the Peel football league and the age group in the team ranges from 18 to 40 years old. Players football experience levels range from 5 years to first timers embarking on their football journeys and we are a team learning and improving rapidly… Everyone is welcome. In 2020 we saw improvements in results and playing finals for the first time and 2021 we plan to continue our journey of improvement in everything we do both on and off the field.
The team live by the following core values:
Honesty and Integrity

Hard work and Attitude
Do your best at all times
Have fun and enjoy your Football
We promote and have great spirit and provide a first-class environment and facilities to develop our ladies.
We have minimal playing spots left in 2021 and it is a competitive environment where hard work and effort at training is rewarded with team selection on match days. I would encourage you if you love the game and want to get involved come down and join the best club in the Peel league the mighty Rockingham Rams one guarantee is you will have the best fun you have ever had with a great bunch of people!
Coach Greg Ingram